My Voice Survey – How We Support People – 2022
Thursday 17 November, 2022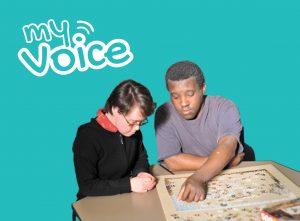 Real Life Options would like to invite the people we support and their families and guardians to complete the latest My Voice Survey.
The survey entitled 'How We Support People' contains questions that were part of the original survey which was launched 18 months ago. The survey was well received, and we felt it was important to revisit these questions to see if/how people's thoughts and opinions about their support have changed over time. We would love to hear from you, it doesn't matter whether you have filled in the surveys in the past. Everyone's views and opinions are important, and your feedback can influence decisions and help shape the support we provide to you and your loved ones.
The questions in the survey are categorised under the key areas, My Voice, My Choice, My Relationships (Special People I Know), My Community, My Home, and My Wellbeing which illustrate our Model of Support. They are key essentials that contribute towards living a full and happy life, namely having a voice that is heard and choices in the way we live our lives.
The questions on the Families and Guardians survey are the same as those asked on the survey aimed at the people we support, just rephrased slightly.
If you are a person we support, please click here to fill in the survey online
If you are a family member or guardian of a person we support, please click here to fill in the survey online
Alternatively, the people we support can fill in an Easy Read survey and their Families and Guardians can complete a downloadable survey Please click on the links below.
How We Support People 2022 – Easy Read Survey 
How We Support People 2022 – Families and Guardians Survey
If you would like to take part in the survey but would like some support to fill in the form. Please speak to your Real Life Options support staff who will be happy to help.
All completed forms should be returned to your support staff or local Real Life Options service.
The closing date to complete the survey is 5pm on Friday 9th December 2022.
By completing this survey, you are helping us make a real difference to the lives of the people we support. Thank you.
Survey responses are uploaded into secure databases and will be used to help Real Life Options improve the way we provide support. Any personal details that you provide will only be used in connection with this survey and not passed on to a third party or used for any other purpose without your express permission.