Putting Volunteering Into The Spotlight
Monday 23 November, 2020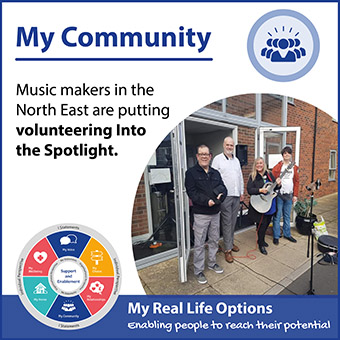 In recent months, people living in and around the Newcastle area have been thoroughly entertained with songs and guitar playing from local volunteer group 'Into the Spotlight'. The six friends and Real Life Volunteers – Ian, Michael, Bruce, Arthur, Elaine and Daniel – have been performing popular songs from across the decades in the grounds of care homes to entertain and lift people's spirits during the pandemic.
Support Worker Ian Curry applied for a grant from the Real Life Options Community Connections Fund to purchase speakers suitable for outdoor use. The £1,000 award has made a huge difference as residents can hear and enjoy the band's live performances from the comfort of their own home and at a safe distance.
Into the Spotlight has so far performed at two care homes – Deneside Court and Hagan Hall in Jarrow – to a delighted audience of forty people and their support staff. The group has followed government guidelines by adhering to social distancing protocols and by using separate microphones. Feedback from both Care Homes has been extremely positive with staff reporting that the experience has positively impacted on people's general wellbeing and that residents enjoyed making requests and listening to their favourite songs.
"Everyone enjoyed the performances and seeing the big smiles on people's faces was lovely to see. We love that we can make a positive difference to people's lives and performing live music is great for our own mental health too." Volunteer and group member Ian Curry.
Into the Spotlight are lining up future performances for when local restrictions end and are excited about visiting more care homes to share the Christmas spirit within their local communities by singing festive songs and traditional hymns.
"I cannot thank our volunteers enough. The positive difference they are making in these challenging times is wonderful to see and provides the social and community cohesion that underpins the purpose of our volunteering programme," adds Andrew Walker, Real Life Options' Volunteer and Social Values Manager – England.
If you have a care home or service in the Newcastle area and would like Into the Spotlight to come along and entertain you, simply get in touch with Andrew – details below. And if you'd like to find out about more about volunteering opportunities with Real Life Options, we'd love to hear from you too.
Andrew Walker (England) – andrew.walker@reallifeoptions.org | 07778 899528
Nick McLaughlin (Scotland) – nick.mclaughlin@reallifeoptions.org | 07789 938134